A+ Mold Specialists LLC offers a range of services, from general mold testing and inspection to specialist black mold testing and commercial mold inspections. Our team of certified experts holds an impressive track record, built on the bedrock of integrity, experience, and expertise.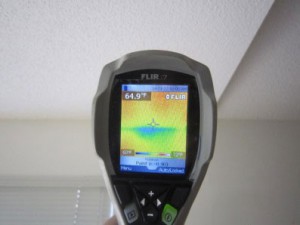 Providing Mold Inspection Services in Delray Beach That You Can Trust
When it comes to securing the safety of your home or business, you need a partner that you can count on. Our team is fully licensed, certified, and experienced. What's more, we're backed by a multimillion-dollar general liability and E&O insurance policy, ensuring you can rely on our services being risk-free.
Our commitment to trustworthiness extends to our independence. We stand apart from the mold remediation industry, ensuring our inspections are always transparent and objective, devoid of any conflicts of interest.
Harnessing Advanced Technology for Accurate Mold Testing
At the heart of our operation is a drive to utilize cutting-edge technology in mold testing and inspection. Armed with tools such as Borescopes and infrared cameras (IRCs), our team has the capability to uncover hidden fungal growth, detect water intrusion, and much more. We're able to identify potential issues in your property, even behind the walls, giving you the information you need to protect your property.
Comprehensive, Certified Mold Inspections
Our mold inspections are more than a cursory glance around your property. They're thorough investigations of moisture levels and possible fungal contamination. We collect ambient air samples to compare the quality of indoor air against the natural environment. If necessary, we take swab or tape samples of visible mold, providing a truly comprehensive view of the situation.
We then send these samples to an unbiased American Industrial Hygienist Association approved laboratory for analysis. Within a day or two, you receive the results, arming you with the knowledge you need to safeguard your health and that of those around you. To learn more about the mold inspection services we offer in Delray Beach, contact us at your convenience.